Jaroslaw Zelinski IT-Consulting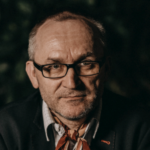 What Is Busi­ness Pro­cess Improve­ment? Busi­ness pro­cess improve­ment (BPI) is an approach used to identi­fy and eval­u­ate inef­fi­cien­cies with­in the organ­iz­a­tion. It redesigns exist­ing busi­ness tasks, improves their effect­ive­ness, enhances the work­flows involved, and optim­izes performance.
This is pos­sible in any com­pany: small, large and very large. BPI is not a revolu­tion, it is a meth­od­ic­al ana­lys­is of busi­ness pro­cesses: devel­op­ing dia­grams show­ing work­flow and doc­u­ments, optim­iz­ing pro­ced­ures, and some­times require­ments for a new ERP sys­tem.
I have 30 years of exper­i­ence in prac­tic­al pro­jects and am con­stantly gain­ing know­ledge as a uni­ver­sity lecturer.
Don't have time to read, want to get a quote now? Here is a descrip­tion of ser­vices and rates.
You can hire me for:
Ana­lyze, mod­el, doc­u­ment and improve busi­ness pro­cess mod­els for your organization.
Ana­lys­is and spe­cific­a­tion of require­ments for ERP sys­tems or ded­ic­ated software.
Soft­ware archi­tec­ture design and applic­a­tion integration.
Sup­port for your team of soft­ware ana­lysts and design­ers: train­ing, lec­tures and ment­or­ing (busi­ness ana­lys­is and soft­ware design, BMM, BPMN, UML, SBVR nota­tions, design pat­terns and best prac­tices)
I work remotely and on-site. Need to talk about it? You can meet me at my office: 214 Uni­on Str. Aber­deen, more on the Con­tact page).
Outsourced Ekspert of business analysis and system design
I have 30 years of exper­i­ence in design­ing and imple­ment­ing soft­ware for busi­ness. As an engin­eer, I have been inde­pend­ently design­ing and super­vising imple­ment­a­tions for 20 years (remotely for the last 10 years). I have been involved in inform­a­tion and sys­tems mod­el­ling research for 15 years, and I am also an aca­dem­ic teach­er and have research experience.
Is your com­pany ready for an ERP sys­tem? Are you pre­pared for the new digit­al age? Is your organ­iz­a­tion ready for organ­iz­a­tion­al change and effi­ciency improve­ments? Are you man­aging busi­ness con­tinu­ity? Do you under­stand: ERP, CRM, Work­Flow, EDI, ECM, MES, Web­Ser­vice, doc­u­ment data­bases, big data, AI, ML and so on? Do you know that mechat­ron­ics is the future of engin­eer­ing? Are you famil­i­ar with the SysML lan­guage for sys­tems engin­eer­ing? I invite you to vis­it my website!
Are you prepared for the advent of digitization and the implementation of the new ERP paradigm?
People say: we have fail­ures in IT pro­jects because are: "Cus­tom­ers that don't know what they want. Require­ments that can­'t be found. Tests that can­'t be defined. Pro­gram­mers who don't have meth­od­o­lo­gic­al dis­cip­line. Pro­ject man­agers who are cer­ti­fied but can­'t man­age." This is to say: they all need a design­er before coding.
I'm a design­er, and I can:
Ana­lyze your organ­iz­a­tion: busi­ness pro­cesses and pro­ced­ures to under­stand how your busi­ness works.
Try to find all the places where you can improve your oper­a­tions and their efficiency.
Design more effi­cient "to-be" pro­cesses and procedures.
Put it all togeth­er and pre­pare require­ments and archi­tec­ture for ERP software.
Pre­pare a migra­tion and iter­at­ive imple­ment­a­tion plan.
Choose the right soft­ware pro­vider and start your smooth new sys­tem implementation.
I can help you do it right, I can train your team
Soft­ware vendors often say that the cus­tom­er does­n't know what they want. Let me help your company.
Ongo­ing ana­lys­is of oper­a­tion­al doc­u­ments and the devel­op­ment and main­ten­ance of doc­u­ment­a­tion that includes busi­ness pro­cess mod­els and related inform­a­tion (mechat­ron­ic also) sys­tems archi­tec­ture. The goal is to col­lect and doc­u­ment know­ledge about the organ­iz­a­tion and man­age it in a way that allows it to be used imme­di­ately to make decisions about changes and present selec­ted inform­a­tion about the way things are done to outsiders.
col­lec­tion and ana­lys­is of source doc­u­ments, user stor­ies, etc,
Form­al­ized block dia­grams (BMM nota­tion) describ­ing busi­ness mod­els, com­pany strategies, and recom­mend­a­tions for effi­ciency improvements.
Form­al­ized block dia­grams (BPMN/SBVR nota­tions) describ­ing busi­ness pro­cesses, doc­u­ment flows and their struc­tures, and busi­ness rules and onto­lo­gies, recom­mend­a­tions for effi­ciency improvements.
Form­al­ized block dia­grams (UML/SysML nota­tion) and use-case spe­cific­a­tions, as graph­ic­al-descript­ive spe­cific­a­tions of soft­ware and sys­tems requirements.
Form­al­ized block dia­grams (UML/SysML nota­tion) describ­ing the HLD archi­tec­ture and logic of the sys­tem oper­a­tion and the LLD archi­tec­ture and busi­ness logic of each ded­ic­ated applic­a­tion ser­vice (Use Case 2.0) as spe­cific­a­tions for reli­able software.
Form­al­ized block dia­grams describ­ing the doc­u­ment and inform­a­tion struc­tures in the sys­tem and its flow (UML/SysML notation).
Stand­ard pro­fes­sion­al doc­u­ment­a­tion (A4, pdf) on-demand.
I am super­vising (over­watch­ing) developers.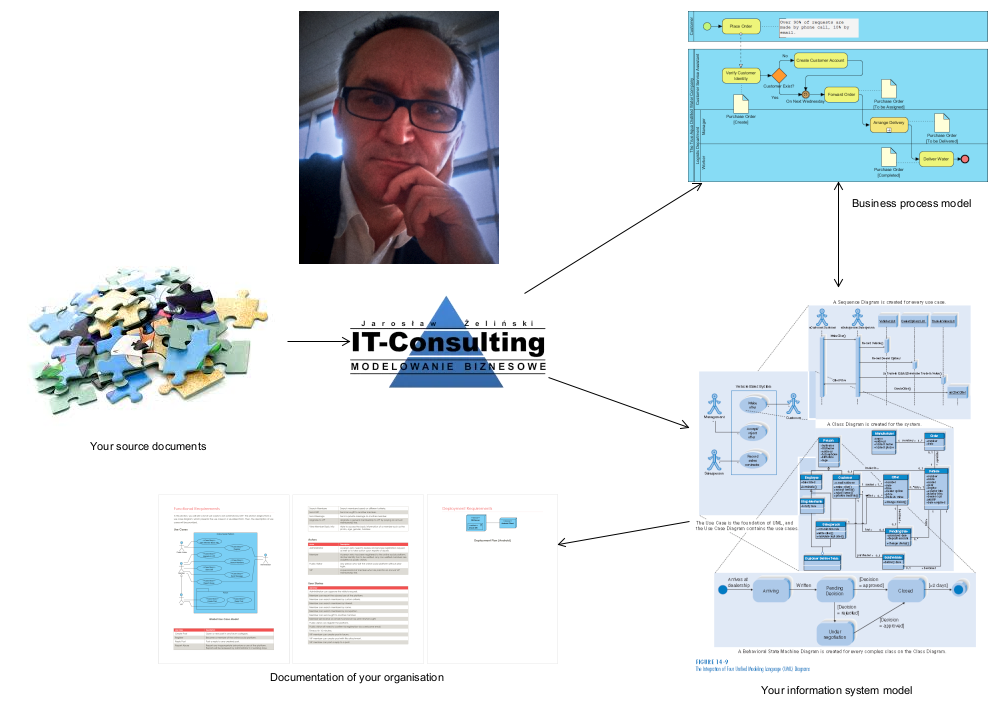 I work loc­ally in Aber­deen and online around the world.
---
Keywords: Enter­prise Archi­tect, Busi­ness Ana­lyst, Design Author­ity, Solu­tion Design­er, Solu­tions Architect.